Straight forWard — Volume 1
As Chairman of Ward Insurance, Steve Ward has been a powerful force in the insurance industry for over 35 years. Steve developed his work ethic in his childhood when he would spend summers picking strawberries, and as he grew older working at Hammer Lumber or bussing tables at the local eatery Pop's Branding Iron in Albany, Oregon. When he wasn't busy working or studying his favorite subjects (science and math), Steve enjoyed hunting and fishing.
During his time at Oregon State University, Steve became a member of Sigma Nu, whose mission is to "relentlessly pursue excellence, while never compromising our values"* – a pledge to which Steve continues to demonstrate his commitment. In addition to studying finance, in his very first week on campus Steve met his future wife, Kim, with whom he has shared 31 years of marriage and three daughters.
After graduating from OSU with a B.A. in Finance, Steve got his start in the insurance industry with Fireman's Fund Insurance Company. In doing so, he followed in his father's – Jack Ward's – footsteps, as Jack Ward had already made a name for himself in the industry.
In 1987, the global firm Marsh & McLennan divested their Eugene office to Steve and Jack. Father and son formed Ward Insurance, and Jack let his son take the lead in running the company. It was Steve, along with partners Rob Harvey, Bob Powell, Pete Cassinelli, and Ed Barclay, who grew the operation into one of the largest locally owned Eugene-based companies.
Industry Insights
Is Your Hot Work Going Cold?
Over the last year, we have noticed a decrease in the reliability of the Hot Work Programs in the Wood Products Industry. Hot Work is a leading cause of loss in this industry, and needs to be taken seriously. Insurance and each requirements may vary from carrier to carrier. These requirements may all vary in shape and size, but all carriers have a Hot Work Program requirement and the end goal is the same: to help keep your business free from loss. Below are a few common findings to help you along in the review of your current program. Keep Reading
--
Hot Work: Any process that can produce a source of ignition when flammable materials are present, or can be a fire hazard regardless of the presence of flammable material. This includes but is not limited to cutting, welding, grinding or anything that can produce a spark.
Top 5 Reasons Your Business Needs Cyberrisk Coverage
Data breaches and cyber attacks are becoming more common and have increased another 23 percent in the last year alone.
25 percent of all breaches have occurred in organizations of 2,500 or fewer employees and 34 percent in organizations of fewer than 250 employees**.
All industries are vulnerable to a data breach or cyber attack, including education, financial services, nonprofits, professional services, manufacturing, hospitality and retail sectors.
The average cost of a data breach has risen to $6.53 million*** and includes costs related to business disruption, revenue loss, equipment damages, legal fees, public relations expenses and forensic analysis, as well as notification costs that are legally mandated in 47 states.
When your business experiences a data breach, the costs associated with that breach average $217 per compromised record***. Unless you secure a dedicated cyber policy, your business is not likely to have adequate insurance coverage.
**(Symantec Internet Security Threat Report 20)
***(Ponemon Institute 2015 Cost of Data Breach Study)
American Health Care Act (AHCA)
On March 24, 2017, House Republicans pulled the American Health Care Act (AHCA). It is unclear whether the bill might be rescheduled, and if so, when. You can expect updates in the future, but in the meantime, the failed legislation provides information about potential future Republican health care reform. The following are some items that would not have changed under the original proposal.
Pre-existing Conditions
The ACA mandate prohibiting insurers from denying or charging more for coverage to patients with pre-existing conditions would be preserved.
Coverage for Adult Children
The AHCA would preserve the ACA's rule allowing young adult dependents to remain on their parents' plans until they are 26.
Cost-sharing Limits
Out-of-pocket maximum limits imposed on non-grandfathered plans by the ACA would continue to apply. These limits are currently $7,150 for single and $14,300 for family coverage.
Annual and Lifetime Limits
The AHCA would retain the prohibition on annual and lifetime limits on essential health benefits.
Substance Abuse and the Workplace
Lately there has been a lot of talk in the Worker's Compensation community regarding impairment in the workplace, especially due to the recent legalization of cannabis in Oregon. Now more than ever companies should take the time to ensure that they have clear policies, procedures and expectations; and that these are communicated directly to their employees annually. Please contact your agent at Ward Insurance as they will be able to provide assistance and resources to help get you started. SAIF also has great tips and links at http://www.saif.com/employer/workplace-impairment.html
--
Workers' Compensation Insurance: Covers the employer's liability for accidental bodily injury during the policy period, and for bodily injury by disease caused or aggravated by employment conditions during the policy period. It covers all benefits required by the workers compensation laws in the states listed in the declarations.
Employee Spotlight
Tina Costa
Tina has worked at Ward Insurance for the past 4.5 years in the commercial lines department as an account manager. She has been in the insurance industry for 16 years working her way through reception, personal lines, commercial assistant and finally commercial representative. She has obtained her CISR (Certified Insurance Service Representative) designation and has knowledge in bonds, personal lines and commercial insurance. When not at work Tina stays busy with her husband, 5 children and all their varied hobbies – from volley ball to horseback riding. The rare moments when there is nothing planned she likes to read, scrapbook or have an adventure through the Oregon wilderness with her family.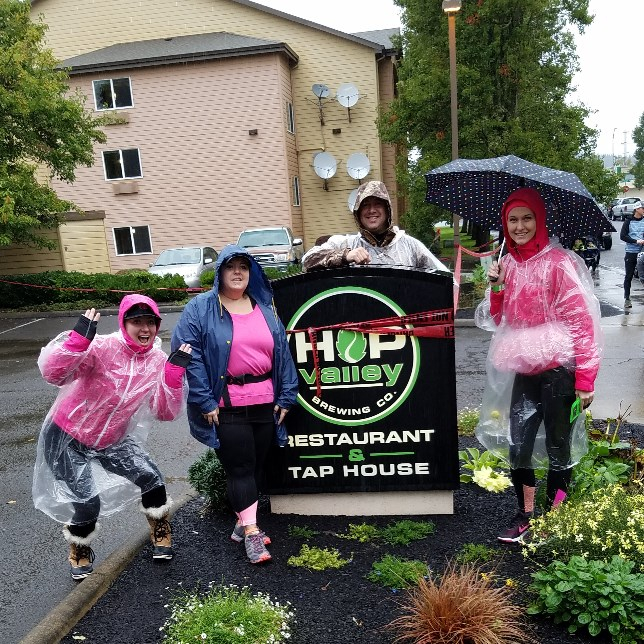 Hop Valley is a local microbrewery and tap house that hosts an annual run/walk event to benefit the Eugene/Springfield Chapter of the American Cancer Society.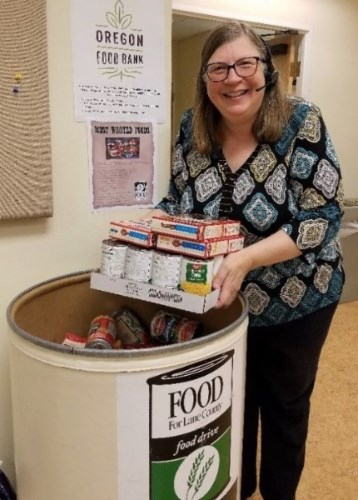 For three weeks, the Ward office was divided into five fiercely competitive teams, tasked with bringing in foods to donate to Food for Lane County.
Lane Blood Center Blood Drive
Employees of Ward Insurance and their friendly next-door neighbors at Oregon Spine & Physical Therapy rolled up their sleeves to donate a combined total of 16 life-saving units of blood to the Lane Blood Center.